Calls for EU role as Navy intervenes in Pipeline Dispute
Another fine example of Naval power being brought to bear in a pipeline dispute.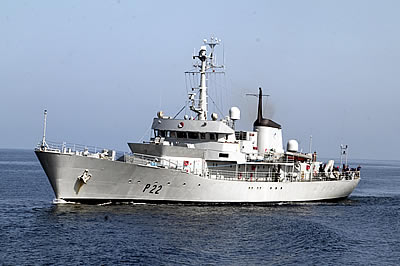 Warship off the coast in Shell Pipeline dispute
Now we know how the Georgians feel :)
Maybe
we'd have been better cutting a deal with Russia's Gazprom
:)
Second Navy Vessel arrives in Bay
Anothes Irish Naval Service warship arrived off the Mayo Coast this afternoon. Given the small sizse of the Irish navy, the priority which is being put on this operation is alarming. As recent events have shown, the Irish coast is often used by criminals importing large quantities of drugs into the country fro further export to Europe, and the navy is supposed to be an impotant line of defence against this.

Instead two ships ae being used to intimidate the local population of a small part of the west coast, to discourage protests against Shell.

Labels: Gas, Gazprom, Georgia, Ireland, it's teh Shell Stupid™, Navy, Pipeline, Shell, Warship
---
DISCLAIMER:
THE POSTING OF STORIES, COMMENTARIES, REPORTS, DOCUMENTS AND LINKS (EMBEDDED OR OTHERWISE) ON THIS SITE DOES NOT IN ANY WAY, SHAPE OR FORM, IMPLIED OR OTHERWISE, NECESSARILY EXPRESS OR SUGGEST ENDORSEMENT OR SUPPORT OF ANY OF SUCH POSTED MATERIAL OR PARTS THEREIN.
---